Storytelling Seminar (2019)
The first Academy Seminar organized by DocNomads out of its regular curriculum was held for two days at the conference hall of Premier Kultcafé in Budapest.
The seminar was lectured by guest participants external to DocNomads faculty, namely Ildikó Enyedi, a renowned Hungarian film director and screenwriter whose film "Body and Soul" recently won the Golden Bear at the Berlinale; Maria Zmarz-Koczanowicz, one of the most prolific Polish documentary filmmakers who is also a professor at Łódz Film School; and Susan Brand, an editor and edit consultant with twenty years of experience in broadcast and independent film. John Burgan, himself a writer, director, editor and lecturer served as the seminar guest moderator.
PROGRAM OF 11th FEBRUARY, MONDAY
10:00 – 13:00 and 14:00 – 17:00
THE SLEEPWALKERS
Inventive storytellers use the classical tools of story-telling the same way a sleepwalker uses all her knowledge about moving in space. During this day we spend together, let's build a world together, let's define its inner rules and then, in an exercise (laptop or pen and paper necessary) let's get loose in this world. When we look back at our adventure, a consistent story will take shape instead of a constructed one.
Lectured by ILDIKÓ ENYEDI
Ildikó Enyedi is a film director and screenwriter from Hungary.
She has directed eight feature films since 1989, and her 2017 film On Body and Soul premiered at the 67th Berlin International Film Festival, where it won the Golden Bear. The film went on to be nominated for the Academy Award for Best Foreign Language Film, representing Hungary.
Enyedi's My 20th Century won the Golden Camera Award at the 1989 Cannes Film Festival. Her 1994 film Magic Hunter was entered into the main competition at the 51st edition of the Venice Film Festival. She was a member of the jury at the 42nd Berlin International Film Festival (1992) and at the 29th Moscow International Film Festival (2007).
In 2018, she announced her next film would be an adaptation of The Story of My Wife, a novel by Milán Füst, about a man who makes a bet with his friend to marry the next woman who walks into the café where they are eating.
PROGRAM OF 12th FEBRUARY, TUESDAY
09:00 – 13:00
THE FILM STORY ABOUT THE REALITY AND PEOPLE IN DOCUMENTARIES
VARIOUS KINDS OF NARRATIVES BASED ON ANALYSES OF STUDENTS' EXERCISES MADE IN FILM SCHOOL IN LODZ.
– The story of collective hero. The choice of the best situations for camera and main characters from the perspective of the development of threads. The choice of the observed relationships between main characters. A metaphorical film ending - the documentary "Sisters" as an example, which has a history.
– The story of the place. How to develop the film narrative if it concerns a static place which has a history, but nothing happens in it. Counterpoint of image and sound as a factor dynamizing the story - an example of the film "Mudrooms".
– The story of an individual hero made by the sequence of images and situations without the usage of the interviews and dialogue. Re-construction of thoughts and emotions through the usage of documentary takes, and the reconstructing of documentary situations – an example of the film "The Snow Queen".
Lectured by MARIA ZMARZ-KOCZANOWICZ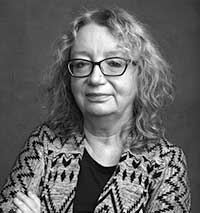 Maria Zmarz-Koczanowicz is a film director and scriptwriter from Poland.
She is one of the most prolific Polish documentary filmmakers who has made nearly 50 films.
Her films have been screened at numerous international festivals winning many awards (The Office, 1986, awarded with the Golden Dragon and the Golden Hobby Horse in Cracow and winning the Grand Prix at Cinéma du Réel. The documentary I love Poland has been awarded Best Documentary at Wiesbaden Film Festival Go East in 2009.
She graduated from the Academy of Fine Arts in Wroclaw (Painting) and the Radio and TV Department of the University of Silesia in Katowice.
She is also a professor at Film School in Łódz at the Directing Department.
14:00 – 18:00
THE STORYTELLING IN THE DOCUMENTARY EDIT
The closest relative to film editing is screenwriting. Screenwriters understand film story and how to make a compelling film narrative. In this 4-hour lecture, Susan Brand will show how the techniques of the screenwriter can work for documentary filmmaking too. Using clear examples, she will contrast portrait with story, clarify the quest or question of a film and explain other essential story components to help documentary makers forge the story they want on screen. By attending this lecture, you will learn how to apply these techniques directly to your next documentary to create the compelling narrative your audience craves.
Lectured by SUSAN BRAND
Susan Brand is an independent editor with 20 years of experience in broadcast and independent film as Editor and Edit Consultant. The films she has worked on have received numerous awards and nominations and been snapped up by Netflix, Sky Arts and Al Jazeera, Europe.
She has been hugely inspired as a storyteller by her experience working in film around the globe in the UK, Denmark, Singapore and the US. Each country has provided her with unique approaches to shape compelling stories that can be applied at any stage of the filmmaking process.
Her passion for exploring film story in the edit has lead her to be invited to lecture at New York University, Cambridge University and other film courses around the world.
She was a director on the board of Women and Film from 2014-2017 and is a member of the British Academy of Film and Television Arts.
---
Seminar Moderator: JOHN BURGAN
There are no "magic formulas" that will instantly solve every film problem, but I am constantly on the look out for smart ways to use story and structure to help our films reach the audience. As Agnés Varda once said: "In my films I always wanted to make people see deeply. I don't just want to show things, but to give people the desire to see."
Film director and scriptwriter. Writer, director, editor & lecturer born 1962 in London.
1981-84 English Language & Literature, University of Newcastle upon Tyne, then picture editor, BBC TV News, London. 1989-92 National Film & TV School, UK.
Based in Berlin, Germany 1992-2006, then Euro-pean Film College, Denmark 2006-8. Senior Lecturer at the University of South Wales 2010-15, currently Programme Leader, MA Documentary & Factual at Met Film School, Berlin and on the faculty of ZeLIG Film School, Italy.
Active member of CILECT, co-organiser with Heidi Gronauer of "Teaching Documentary" conference (Cardiff 2014, Bolzano 2018). Back in Berlin from 2015, teaching filmmaking and working as a mentor in various European countries. Co-Host of The D-Word documentary community (2005-18).
Films as writer/director include MEMORY OF BERLIN (1998), BEHIND WORDS (2005), FRIENDLY ENEMY ALIEN (2006), POWER & PLACE (2010).