Márton Vízkelety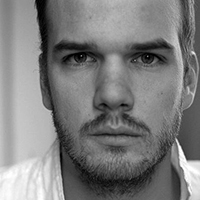 Márton Vízkelety
Advanced Cinematography and Editing
Cinematography Instructor and Adviser (2019)
Márton Vízkelety is a cinematographer from Hungary.
He works as a freelance cinematographer and camera operator in several kind of productions in and outside of Hungary.
He started taking black and white photos when he was thirteen years old. After finishing high school, he studied at the University of Theatre and Film Arts Budapest, where he graduated as a cinematographer in 2007. In 2009 he participated at Berlinale Talent Campus. He took part twice of the Cinetrain project in Russia, first in 2009, and then in 2013. He was a participant at Alexei Rodionov's MasterClass in Moscow in 2013.
He photographed documentaries, and short films, which were screened at film festivals, like TriBeCa, Sarajevo International Film Festival, Zagreb Dox, DokLeipzig, Vladivostok International Film Festival.
Recently he started to work on his first feature-documentary as a director.