"After the Fire" wins a Best Film Award in DocLisboa'18
The documentary AFTER THE FIRE, directed by Ahsan Mahmood Yunus, a DocNomads student from Pakistan, won the Best Film Award of the Green Years Competition at the 16th DocLisboa Film Festival, Portugal.
SONG OF THE BELL, by Hosein Jalilvand, a graduated student from Iran, won the Doc's Kingdom award for best director, also in the Green Years competition.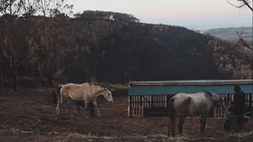 AFTER THE FIRE
By Ahsan Mahmood Yunus
2018 • 10'
Synopsis:
Three months after a forest fire destroyed their home, João and Kiat still struggle as they try to bring order back into their lives. The film explores the fragility of humankind against the mightiness and unpredictability of nature.
Trailer
here
.
SONG OF THE BELL
By Hosein Jalilvand
2017 • 18'
Synopsis:
Three decades after his second burial, Hungarian executed Prime Minister, Imre Nagy, is out of the grave again. Facing the new extreme right wave in government, Imre tries to find a way out, to die again.
Trailer here.