DocNomads films showcased in Film Festival FIDÉ | Brazil
The 5th International Student Documentary Film Festival FIDÉ | Brazil presented a special screening of films by DocNomads students.
The films "A Theoretical Film" by Quan Nguyen, "DOEI / Bye-Bye" by Pien van Grinsven, "Histories of Wolves" by Xinyang Meng, "The Zhengs" by Yimeng Zhang, "Terril" by Bronte Stahl, were screened as a special programme curated by DocNomads at invitation of this festival held in Curitiba, Brazil, which is organized in partnership with FIDÉ | Paris, France.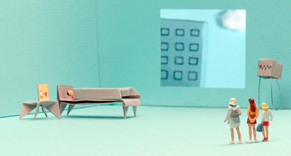 DOEI (Bye-Bye)
By Pien van Grinsven • 19' • Belgium
Synopsis:
A film about the farewells we wish for. One day the director and her two sisters receive a letter from their father, writing he doesn't want to see them for 6 months. That letter is now 12 years ago, and their father has since refused to either come back or say goodbye. In this short film full of miniature people, the director plays out all the goodbyes that she is left with.
Trailer here.
THE ZHENGS
By Yimeng Zhang • 15' • Hungary
Synopsis:
Zheng Honghai has been living in Hungary for over 27 years. He is married to a Hungarian woman and has three kids. "You can not rely on her at all", he says talking about the way of educating their children. "She just sets them free from all classes when I am not at home. She says kids should only play. How funny!" Honghai firmly believes in traditional Chinese way of education which is strict, intensive and serious. His boys are learning to play the piano and the violin, they are swimming, singing, playing chess, drawing, learning calligraphy, practicing kung fu at the same time. The father is sure: what he is doing is for the kids' good.
Trailer here.
A THEORETICAL FILM
By Quan Nguyen • 13' • Hungary
Synopsis:
A short documentary about the relationship between Bailint, a 14-year-old disabled boy who gets amyotrophic lateral sclerosis and stays confined to a wheel chair, and his mother. He wants to become a computer programmer and he loves to research about UFOs.
HISTORIES OF WOLVES
By Xinyang Meng • 22' • Portugal
Synopsis:
Pitões das Junias is a village isolated in the rocky mountains of northeastern Portugal. At the end of the day the shepherds gather to talk and tell stories about things that have happened, or maybe not ... The legends and stories of old times that they tell again and again are inspired by their isolation in the mountains, stemming from the villagers confrontation with the dangers hidden amidst the wild environment that surrounds them.
Trailer here.
TERRIL
By Bronte Stahl • 13' • Belgium
Synopsis:
The geography of the otherwise flat city of Charleroi is defined by slag heaps - hills formed from the waste material from coal mines. Filmed entirely from these terrils themselves, the film weaves large-scale industrial tragedy with the poeticism of ecological rebirth through a data-driven narration in which the terrils are the protagonists.
Trailer here.