DocNomads Summer School 2019 was held in Georgia
After the pilot Summer School held in Lebanon in July of last year, conjointly organized with the School of Cinema and Audiovisual Directing of ALBA-UOB, the DocNomads Summer School of 2019 was held in the South Georgian mountains in cooperation with TAFU - Shota Rustaveli Theatre and Film Georgia State University.
Between 27 July and 6 August, seven students of TAFU and five from DocNomads teamed up in mixed groups for a ten day-long workshop of documentary filmmaking with the objective of participants to learn from each other while producing collaboratively on location four films of around 10 minutes which were screened in the last day of the workshop.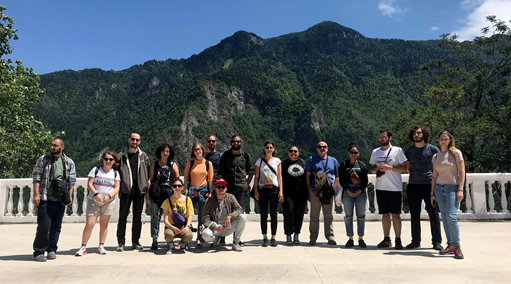 DocNomads Summer Schools are held between the 2nd and 3rd semesters of the Master, and aim at fostering ways of active cooperation with non-European partner film schools by bringing together expertise and pedagogic methods of both parties in order to provide an intensive collective experience of teamwork between small groups of students from both schools, which beyond of an additional learning opportunity is intended to result in a memorable multicultural exchange for all participants.
These activities always take place in local settings proposed by the host schools and chosen by its potential to inspire filmwork approaches. Students conjointly do fieldwork on location, find subjects to develop projects and then produce completed short films to be screened before a local audience, all of these tasks carried out within a period of up to two weeks. Teachers from both schools also cooperate to exchange knowledge and experiences whilst supervising the projects' development and its production by their students.