DocNomads film selected to Trento, Italy
The graduation film Histories of Wolves by Xinyang Meng was presented in the main competition of the 67th Trento Film Festival, held in Italy from 27 April to 5 May 2019.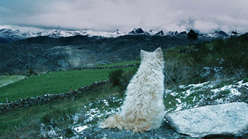 HISTORIES OF WOLVES
By Xinyang Meng • 2017 • 22' • Portugal
Synopsis:
Pitões das Junias is a village isolated in the rocky mountains of northeastern Portugal. At the end of the day the shepherds gather to talk and tell stories about things that have happened, or maybe not ... The legends and stories of old times that they tell again and again are inspired by their isolation in the mountains, stemming from the villagers confrontation with the dangers hidden amidst the wild environment that surrounds them.
Previously presented in:
Full Frame Documentary Film Festival, USA (2019)
Festival Int. du Film Ethnographique du Québec, Canada (2019)
Akbank Short Film Festival, Turkey (2019)
World Film Festival, Estonia (2019)
Regard – Festival Int. du Court Métrage au Saguenay, Canada (2019)
HOTDOCS International Film Festival, Canada (2018)
Guanajuato International Film Festival, Mexico (2018)
IndieLisboa International Film Festival, Portugal (2018)
MakeDox - Creative Documentary Film Festival, Macedonia (2018)
Upcoming presentations:
Indy Film Fest Indianapolis, USA (2019)
Ethnocineca – Int. Documentary Film Festival Vienna, Austria (2019)
Trailer here.