DocNomads film selected to Entrevues-Belfort in France
The documentary short "Men With No Name" directed by Nuruzzaman Khan, a student from Bangladesh, is in the International Short Film Competition of the 33rd Entrevues Belfort Film Festival held in France between 17 and 25 November.
The film had its World Premiere at the 26th HOTDOCS, and was also selected to competition in the program of the 14th Kazan International Festival of Muslim Cinema, Russia, held in September 2018.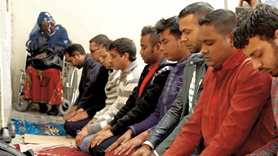 MEN WITH NO NAME
By Nuruzzaman Khan
2016 • 12' • Portugal
Synopsis:
Two Bangladeshi young men come to Lisbon for changing their luck. They think they can earn more and they can go back their regular life in their home country, but in reality they could not manage what they thought. New culture, new system make their life uncertain. They have hope that someday they will be able to reach their destiny.
Trailer here.