DocNomads represented with five films in Minsk Film Festival
The 25th Minsk International Film Festival "Listapad" (Belarus), held from 2 to 9 November, selected "Bruno Jumps" by Mirna Everhard, "A Roof in Common" by Fan Wu, "Hotel Fremon" by Zilong Yao and "Eastward Go" by Yimeng Zhang for the National Film Schools Competition. "The Zhengs", also by Yimeng Zhang, will be screened out of competition in the section Children and Youth Film.
BRUNO JUMPS
By Mirna Everhard
2018 • 11' • Portugal
Synopsis:
Bruno travels with a troubled past, 3 bags and his dog Kazuza from place to place to jump wherever he can with his parachute, hoping that it will save his life. This journey takes us into the world of BASE jumping and explores how his salvation is at the same time his biggest menace.
EASTWARD GO
By Yimeng Zhang
2018 • 12' • Belgium
Synopsis:
In traditional Chinese culture, the Chinese are not afraid of death, but they do care a lot about the world which the deceased would be living in. The Chinese hold the belief that the deceased world functions same as the real word, you still need to make a living and money is the basic necessity. Hence each year the Chinese would burn fake money, a kind of notes that filled with borderless imagination. Burning the ghost money, calling their names, the money would go with the wind and be delivered to the deceased. Then they won't suffer in that world. Meanwhile the path that bonding these two worlds is not easy to go. Not to mention burning your ghost money in Europe, how can it travel all the way to China and what adventures would it encounter?
Previously presented in
documentART European Film Festival, Germany (2018)
Szczecin European Film Festival, Poland (2018)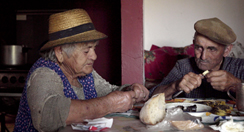 A ROOF IN COMMON
By Fan Wu
2017 • 17' • Portugal
Synopsis:
In an empty village where death and loneliness seem to be looming over, old neighbours Inacio and Francisca resist the melancholy by accompanying each other. They share the same roof after they both lost their life partners. Now a new challenge of sharing life and affection with one another has just begun. It is a love poem of developing an intimate relationship in the last season of life in a desolate place.
Previously presented in:
Women Make Waves International Film Festival, Taiwan (2018)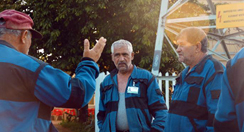 HOTEL FREMON
By Zilong Yao
2017 • 11' • Hungary
Synopsis:
What is the feeling of being nowhere without a root? Four Ukrainian men work at the biggest factory of Central Europe, in a small Hungarian town. They don't feel at home there, however, they have to work hard to support their families. They share a small dormitory in a one-star hotel, go to work and come back together every day. Drinking and watching TV after a long working day have become their only hobbies. With different workers coming from all over central Europe, the one-star gradually becomes their small shelter. When will they finally finish their project? What is their next destination?
THE ZHENGS
By Yimeng Zhang
2017 • 32' • Hungary
Synopsis:
Zheng Honghai has been living in Hungary for over 27 years. He is married to a Hungarian woman and has three kids. "You can not rely on her at all", he says talking about the way of educating their children. "She just sets them free from all classes when I am not at home. She says kids should only play. How funny!" Honghai firmly believes in traditional Chinese way of education which is strict, intensive and serious. His boys are learning to play the piano and the violin, they are swimming, singing, playing chess, drawing, learning calligraphy, practicing kung fu at the same time. The father is sure: what he is doing is for the kids' good.
Previously presented in
Docudays UA International Human Rights Documentary Film Festival, Ukraine (2018)
Golden Tree International Documentary Film Festival, Germany (2018)
Trailer here.