DocNomads film selected to DOKLeipzig, Germany
The graduation film Portrait of Elika directed by Maryam Bayani will be presented in the 61st DOK Leipzig International Festival for Documentary and Animated Film, held in Germany from 29 October to 4 November.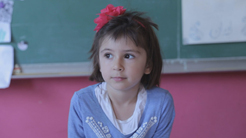 PORTRAIT OF ELIKA
By Maryam Bayani
2017 • 12' • Belgium
Synopsis:
Little Elika explains that people in Iran like five things above all: rice, the sun, ice cream, fish and tulips. She gives a presentation about her home country in a Belgian school, which includes a Persian poem she translates directly into French. Her audience is amazed: Elika talks differently all of a sudden. And so something strange playfully becomes familiar.
Kim Busch, in DOKLeipzig catalogue
Previously presented in:
64th Oberhausen International Short Film Festival, Germany (2018)
33rd Osnabrück Independent Film Festival, Germany (2018)
21st United Nations Association Film Festival, USA (2018)
13th Filem'On International Film Festival for Young Audiences, Belgium (2018)
6th Universal Kids Film Festival, Turkey (2018)
Upcoming presentations:
48th Roshd International Film Festival, Iran (2018)
13th Hamilton Film Festival, Canada (2018)
2nd Cinema Crianza Film Festival, Spain (2018)
Trailer here.