Four DocNomads films selected to DocLisboa 2018
The International Film Festival DocLisboa selected 3 films of DocNomads students to screen in its Portuguese Competition and Green Years section during the 16th edition of the festival from 18th to 28th October 2018.
"In the Clouds", by Ida Marie Sørensen, is presented in the Portuguese films competition, whereas in the Green Years competitive section will be screened "After the Fire" by Ahsan Mahmood Yunus, "In the Middle of the Earth" by Teyama Alkamli, and "Song of the Bell" by Hosein Jalilvand.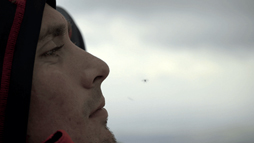 IN THE CLOUDS
By Ida Marie Sørensen
2017 • 40'
Synopsis:
60-year-old meteorologist Ilie has spent his entire life working on a mountaintop far away from his family. Lucian, a 22-year-old novice, has just arrived on his first year of duty. Employed by the Romanian state, the two meteorologists work on an outpost in the mountainous region of Transylvania. Their Kafkaesque job is to keep track of the ever-changing wind and humidity, which hour after hour they register and report to Bucharest. The old man likes to drink pălincă and sometimes, when he has had too much, he yells at his young apprentice. The camera becomes a confidant of these two men enclosed by clouds.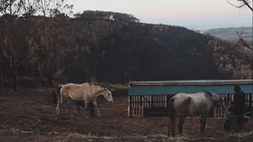 AFTER THE FIRE
By Ahsan Mahmood Yunus
2018 • 10'
Synopsis:
Three months after a forest fire destroyed their home, João and Kiat still struggle as they try to bring order back into their lives. The film explores the fragility of humankind against the mightiness and unpredictability of nature.
IN THE MIDDLE OF THE EARTH
By Teyama Alkamli
2017 • 21'
Synopsis:
In the Greek island of Leros, the voices of Kadio, a 103-year-old woman, Lefteris, a fisherman, and Ayat, a 10-year-old Syrian refugee girl, connect the atrocities of WWII to the present-day Syrian War, reflecting on a past that remains alive today.
SONG OF THE BELL
By Hosein Jalilvand
2017 • 18'
Synopsis:
Three decades after his second burial, Hungarian executed Prime Minister, Imre Nagy, is out of the grave again. Facing the new extreme right wave in government, Imre tries to find a way out, to die again.