Two DocNomads films selected to MakeDox, Macedonia
MakeDox - Creative Documentary Film Festival in Skopje, Macedonia, selected two films of DocNomads to its Student Dox competitive section in the August 2018 edition of the festival.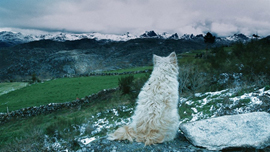 HISTORIES OF WOLVES
By Xinyang Meng
2017 • 22' • Portugal
Synopsis:
Before TV, stories of blood-sucking werewolves ran rampant in one rocky Portuguese village. At nightfall, shepherds gathered to tell tales about men and wolves. These days, only a handful of them remembers or practices the oral tradition. Along with it are gone the forgotten ancient instincts to remain alert and fearful.
Previously presented in:
HOTDOCS International Film Festival, Canada (2018)
Guanajuato International Film Festival, Mexico (2018)
IndieLisboa International Film Festival, Portugal (2018)
Trailer here.
SUN CREAM
By Aylin Gökmen
2017 • 9' • Hungary
Synopsis:
A blanket transforms into a castle, a swamp becomes quicksand: everything is a playground for 5 and 6 year olds, Morné and Carey. SUN CREAM is a dual travel: a trip to the forest for the children and a time travel for the viewers, who are transported back to their own childhood.
Previously presented in:
San Francisco Frozen Film Festival, USA (2018)
DOKer Moscow International Documentary Film Festival, Russia (2018)
DocFeed Documentary Festival, The Netherlands (2018)
Minsk International Film Festival, Belarus (2017)
Trailer here.