DocNomads film in the official selection of Guanajuato, Mexico
"Histories of Wolves", the graduation documentary of Agnes Xinyang Meng, a student from China, is in the Official Selection of Short Documentary of the 21st Guanajuato International Film Festival held from 20 to 29 July in Mexico.
The film premiered at HOTDOCS in Toronto, Canada, and was also selected to the short films competition at Indie Lisboa International Film Festival, held in April 2018.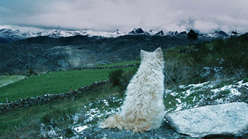 Histories of Wolves
By Agnes Xinyang Meng
2017 • 22' • Portugal
Synopsis:
At a peak among rocky ranges, there is a village called Pitões das Junias. For centuries, shepherds have encountered wolves and created stories about them. The things they tell might or might not have happened, but the stories are inspired by the constant fighting between man and wolf, as well as man´s fear of the unknown in the wild.
Trailer here.