Two DocNomads films selected to HotDocs, Canada
Xinyang Meng´s graduation film Histories of Wolves and Nuruzzaman Khan´s Men With No Name will premiere at the 26th HOTDOCS, North America's largest documentary festival which will be held in Toronto, Canada, from 26 of April to 6 of May.
HISTORIES OF WOLVES
By Xinyang Meng
2017 • 24' • Portugal
Synopsis:
Before TV, stories of blood-sucking werewolves ran rampant in the rocky Portuguese village of Pitões das Júnias. At nightfall, shepherds once gathered to tell tales about men and wolves. These days, only a handful remember or practice the oral tradition, and ancient instincts to remain alert and fearful are being forgotten along with it.
Angie Driscoll, in HotDocs catalogue.
Trailer here.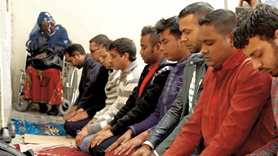 MEN WITH NO NAME
By Nuruzzaman Khan
2016 • 12' • Portugal
Synopsis:
The new face of Europe is encapsulated by the struggles of two Bangladeshi men who hoped that migrating to Portugal would set themselves on the path to a better life. Their reality is a road paved with more obstacles than anticipated.
Eileen Arandiga, in HotDocs catalogue.
Trailer here.