DocNomads film selected to Docudays Film Festival in Ukraine
The documentary short The Zhengs directed by Yimeng Zhang, a DocNomads student from China, was selected to the DOCU/SHORT competition of Docudays UA International Human Rights Documentary Film Festival which takes place in Kiev, Ukraine from 23 to 30 March 2018.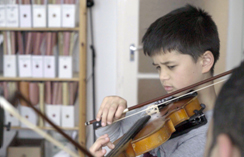 The Zhengs
By Yimeng Zhang
2017 • 32' • Hungary
Synopsis:
Dongdong, Xixi and their little sister have a Chinese father and a Hungarian mother. The father, Zheng, has been living in Hungary since the year 1990, yet he still holds a critical attitude towards the 'western way' of educating children, so he fights a lot with his wife on this. He believes firmly in "Never allow your kids falling behind at the starting line". At the same time, he tries every chance to influence them with Chinese culture. So, his children are now learning piano, violin, singing, calligraphy, ping-pong, badmington, kung fu, swimming, Chinese, English and so on. They are busy attending different courses every day after school, even every weekend they have a super tight schedule. The father gets worried when he is not at home, since the mother doesn't force the kids to stick to the training schedules.
Trailer here.