DocNomads film wins Best Short award in DocuWest
The documentary short "Let There Be Night" directed by Benjamin Hameury, a DocNomads student from France, was awarded Best Short Film in the 10th DocuWest Documentary Festival held in Denver, USA.
LET THERE BE NIGHT
By Benjamim Hameury • 15' • 2016 • Hungary
Synopsis:
In a world of shadows, Attila meets Benjamin. He teaches him how to play a game, and as the sun goes down, they have become friends.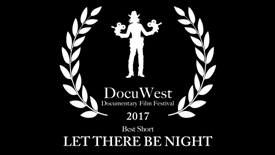 The Film was also presented in:
- Ismailia International Film Festival, Egypt (April, 2017)
- Oberhausen International Short Film Festival, Germany (May, 2017)
- Hot Springs Documentary Film Festival, Arizona, USA (October, 2017)
- Kosovo Film Festival, Prishtina, Kosovo (October, 2017)